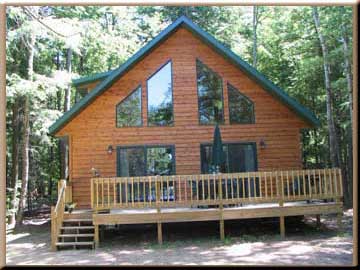 The Timber Wolf
The "Timber Wolf" chalet is a brand new two bedroom, two bathroom unit with an upstairs loft providing additional sleeping space. It is very spacious and also offers a sleeper sofa in the living room, brand new kitchen appliances and accessories, TV, DVD player and microwave. The Timber Wolf also has a beautiful fireplace, snack counter with bar stools and its own private deck with patio furniture and grill.
The Timber Wolf is now owned by our daughter and son-in-law. You can call either of the following numbers for reservations: Tom & Kathy at (715) 546-3033 or Jim & Jaime at (715) 546-3848. Please visit the Timber Wolf Lodge website for additional information.
This unit rents for $1750.00 per week. A discounted rate is available during the off-season. Please see 'Information' for more details!


- Click images to enlarge -